Who:
Hoennween Plot Participants!
Where:
Tohjo Falls!
When:
Wednesday, October 29thSummary:
You've just received a call from a mysterious voice asking you to come help save the world. This is Day One of The Rest Of Your Life™ — the introductory skirmish that will determine your field position for tomorrow and the advantages you'll have going in to the fight against Archie and Maxie.
Rating:
PG-13 in general; please mark threads that go higher accordingly!
Log: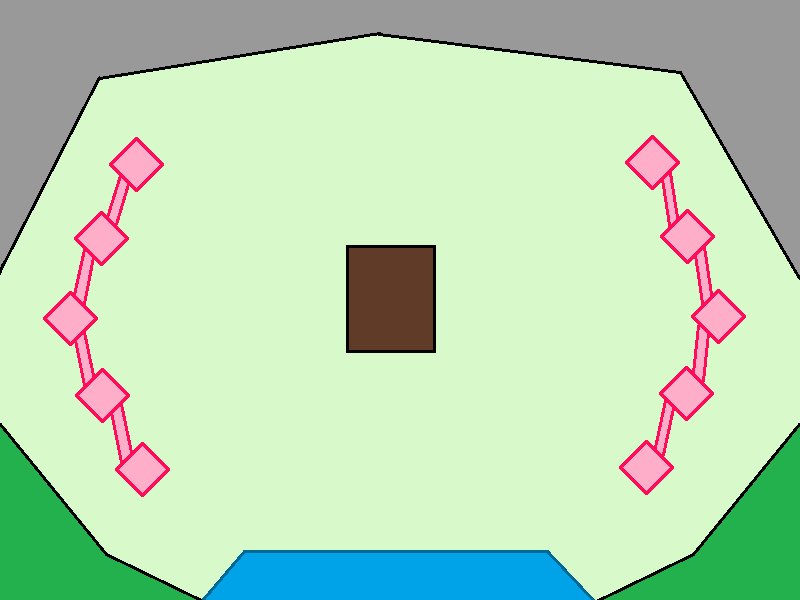 YOU ARE HERE. YOU'RE FIGHTING THESE GUYS AND ALSO POSSIBLY THESE GUYS. THEY'RE NOT HAPPY TO SEE YOU.

ETA: AND THIS IS YOUR BACKGROUND MUSIC!
KEY:
• GRAY areas in the north are a range of mountains that form a natural barrier around part of the Tohjo plain where the Elite Four's resort is located. It is both difficult and dangerous to get up into the mountains proper, but this seems to be the direction from which most of the Team Magma Grunts are entering the area.

• GREEN areas in the southeast and southwest are densely-packed forested areas interspersed by lakes and rivers that seem to be feeding into the main waterway into the area. It is both difficult and dangerous to venture into the woodlands proper, but this seems to be the direction from which most of the Team Aqua Grunts are entering the area.

• The BLUE area in the south is the massive lake that feeds the eponymous falls that give Tohjo its name. You will also find Team Aqua Grunts here taking great care to hold control of the lake, if you're interested in engaging in a water battle.

• PINK diamonds in the east and west are the sites of massive formations of Mysterious Plot Crystals™ jutting up from beneath the surface; the Grunts on both teams appear somewhat wary of these growths, so they will be keeping a reasonable distance from them while still doing their best to protect them.

• The BROWN rectangle dead-center in the map is...the Elite Four's resort. Not exactly what you might call a fortunate place to be located, but it's easy to see why this might be considered prime real estate for both teams. You're likely to find members of both Team Aqua and Team Magma hanging around here, so be cautious!
A FEW OTHER SETTING NOTES:
• As per Arceus's summon, there will be Gen VI Pokemon joining the battle on their own! You may NPC these Pokemon, within reasonable limits; you may not capture them in Pokeballs, and they are still wild so they will not take commands from characters the way a captured Pokemon would from its trainer. However, they do recognize that the portaled-in humans are fighting on roughly the same side as they are, so they won't attack player characters and might occasionally come to their aid if need be — you're free to NPC them as you like for purposes such as this.

• The aforementioned Gen VI Pokemon can be any Pokemon that swarmed during September, plus any of their evolved forms. They've had several weeks in the wild to get buff and settle in; now you can see what they've got to show for it!

• You may NPC the Team Aqua and Team Magma Grunts as you see fit; either one can be found anywhere on the map, though Team Magma will be more highly-concentrated in the northern areas of the map, and Team Aqua will be keeping more to the south.

• There is no restriction on how many Aqua and Magma Grunts you may fight.

• You may fight members of both teams on this log if you so choose; you are not required to pick just one or the other to focus on for this particular log.

• You may forego Pokemon battling entirely and simply beat up the Grunts with physical violence yourself. If you KO a Grunt, they will white out and be warped to the nearest Pokemon Center back down in the regions proper, where they will be arrested by an officer of the Kangaskhan Police.

• FOR CHARACTERS INTENDING TO USE HONEDGES LIKE WEAPONS: due to the high volume of questions we have received on this topic (it's a popular inquiry!), we want to clarify for this Pokemon in particular —

If you choose to use a Honedge as though it were a traditional sword, the most that the Honedges will allow might be slapping the grunts with the flat side of the blade. They are still opposed to attacking/killing humans, opponents or not, and if you try to stab an opponent with them, you're going to get a really obstinate ghost sword going incorporeal and ineffectively going through them. There's also the fact that you're grabbing them by the head and swinging them around — they won't like that very much.

PLEASE NOTE: if you intend to use a Honedge in this manner anyway, we may ask that you experience light IC consequences for it later in the plot! We're not barring you from getting your sword skills on with your Honedges; we're simply pointing out that there may be natural outcomes that follow from those choices.

• UPDATE: if you would like to interrogate the grunts, check here for information you can learn from them!
~

☆ THE NUMBER TO MEET OR BEAT IS 50 PARTICIPANTS ☆.

REMEMBER: IF YOUR CHARACTER DOES NOT POST TO THE INTRO CHALLENGE LOG AT LEAST ONCE
(AS A TOP-LEVEL COMMENT OR IN RESPONSE TO SOMEONE ELSE'S TOP-LEVEL COMMENT)
BEFORE 9:00 PM EST on OCTOBER 28, THEY WILL NOT COUNT TOWARD THE 50-PARTICIPANT GOAL!

~
QUICK LINKS

EVENT LINKS MASTERPOST | THE INTRO CHALLENGE INFOPOST | QUESTIONS FOR MODS | INTRO CHALLENGE PARTICIPATION CHECK-IN THREAD