Who:
Hoennween Plot Participants!
Where:
Tohjo Falls!
When:
Friday, October 31Summary:
The bosses are defeated, the strife is over, the apocalypse has been averted. But things are still a bit of a disaster and some benign faces are arriving, so this is your chance to wind down, rest up, commiserate with others over everything that transpired, and breathe a little in general before it's time to go home again.
Rating:
PG-13 in general; please mark threads that go higher accordingly!
Log: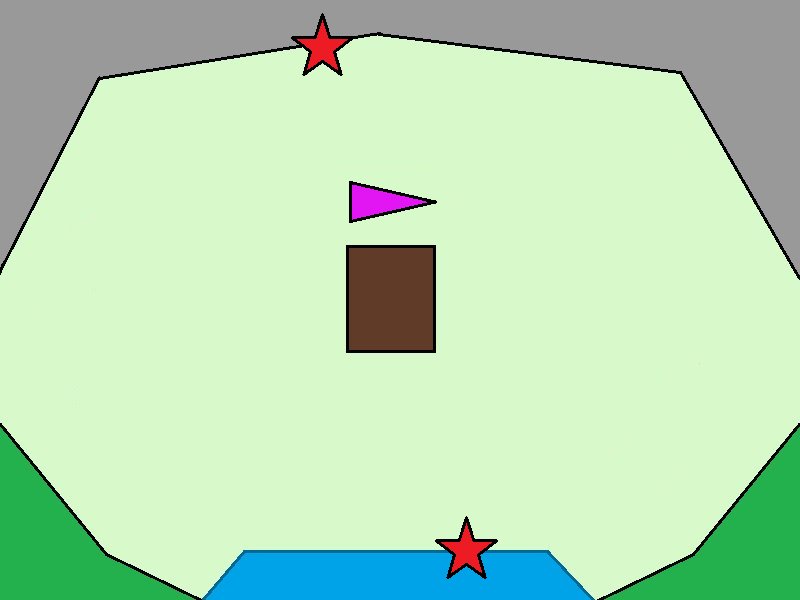 YOU ARE HERE. IT LOOKS A LITTLE APOCALYPTIC. BUT THESE GUYS ARE HERE, AND SO IS THIS GUY.

NOW GO LEARN THE MAGIC OF YARN.
KEY:
• The GRAY, GREEN, and BLUE areas remain as they have all plot; these are the mountains, forest, and lake areas (respectively) that are now devoid of Team Aqua and Magma Grunts and currently form the natural boundaries of the map area you're in!

• The BROWN rectangle in the center of the map is still the Elite Four's Resort; because you did so well at fighting off the bosses and their legendaries, it escaped the conflict with minimal damage. For this log, that means it will also still be available to you as a bonus area map!

• The PINK triangle represents Shauna and Sina's private jet (or, well, someone's private jet, anyway), in which they just arrived from Kalos! Also, it sounds like they've got some kind of goodies for you in there, so you might want to stop by and have a chat with them to see what that's all about.

• RED stars on either sides of the map are approximate locations where you are most likely to be able to find and approach Arceus! Note that it can be sighted pretty much anywhere on the map as it walks around restoring things to some semblance of normal, but if you intend to approach it directly, it should be in one of these two areas. Attempting to catch or battle Arceus will result in a character immediately whiting out and being booted to the Blackthorn City Pokemon Center, and thereby suspended from participation in the remainder of the event.
A FEW OTHER SETTING NOTES:
• The Gen VI Pokemon that assisted you in the battle are still around somewhat, but they're largely leaving the area to head back down into the Johto/Kanto regions proper; they made good on the summons from their creator and have received its profound thanks for it, and now it's time to get back to the areas they've picked as their new habitats from here on out.

• FOR CHARACTERS WHO USED A HONEDGE LIKE A WEAPON DURING BATTLE:
This is also where we are asking you to experience some IC consequences! Namely, in exchange for picking up your Pokemon and rather unceremoniously winging it around by the head during battle, Arceus will be returning the favor by winging you around by the head a little at some point during the log! You're welcome to handwave this as you see fit, but we ask that you please accept this as the consequence of your choices!

• On a related note, if your character has mistreated one of their Pokemon lately and you would like them to suffer a llamagod-delivered consequence for it (for the purposes of development or what have you), feel free to let us know and we'll work something out with you!

• There is no restriction on how many of the NPCs you may talk to; feel free to interact with any and all of them!

• Maxie and Archie are not available on this log; they are, however, going to be taken into Shauna and Sina's custody and presumably deported back to Kalos to receive justice for...something or other, assuredly.

• You are welcome to thread out scenes occuring at any time during the aftermath events — waking up in the morning to Arceus, spotting Shauna and Sina arriving around noon, and experiencing the Sylveon Swarm in the afternoon are all fair game!

• At the end of the day you will be getting home the same way you initially came: via an Arceus-opened portal that will take you back to the location you left, with its thanks!

• EDIT: It's been brought to our attention that this was somewhat unclear — yes, you may make your own top-levels on this log! It is not solely for interacting with the NPCs, so please feel free to tag around and interact with others as you like!

QUICK LINKS

EVENT LINKS MASTERPOST | AFTERMATH LOG INFOPOST | QUESTIONS FOR MODS

☆ THREAD WITH ARCEUS ☆ THREAD WITH SHAUNA ☆ THREAD WITH SINA ☆